Eurowindow and Citek Drives Digital Transformation with SAP S/4 HANA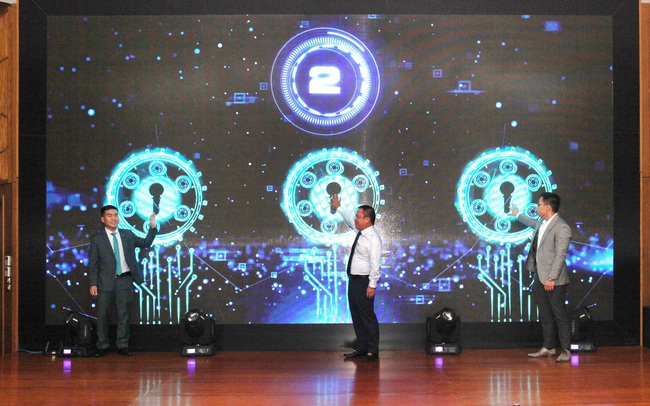 On 1st October 2020, Citek and Eurowindow officially announced that it has gone live with SAP's next-generation ERP business suite – SAP® S/4HANA in comprehensive management and operation. Follow it, It has synchronized in all head office, branches, factories at Vietnam and representative offices at Laos, Myanmar and Cambodia.
Digital transformation is happening very quickly and drastically nowadays, specially when COVID 19 is spreading so fast. Evaluated the threats of business model, enterprise operations, and deeply knowledge about competitors, Eurowindow realized the necessary of reconstruction from BOD to sales and productions. So they decided to chose the comprehensive management solution SAP S/4HANA to improve competition abilities.
After 10 months preparing and implement, SAP Go-Live ceremony occurred on Morning 01/10/2020. Mr. Nguyen Canh Hong had highly evaluated and apricated the enthusiasm and professional working spirit of Eurowindow and Citek.
Speaking at the go-live ceremony, Mr. Nguyen Canh Hong, Eurowindow CEO affirmed that the successful completion of SAP S/4HANA project is a major milestone in Eurowindow's digital transformation journey, and will act as a launch pad for Eurowindow's ambitious plans to become Vietnam's biggest provider of door products and expand its business internationally
Mr. Nguyen Canh Hong highline: "I trust the SAP S/4HANA system will be useful tool to increase performances of sale and operations, customer services. Integrated data from departments, functions into a single system help instance accessibility, cost controlling, making decisions on time"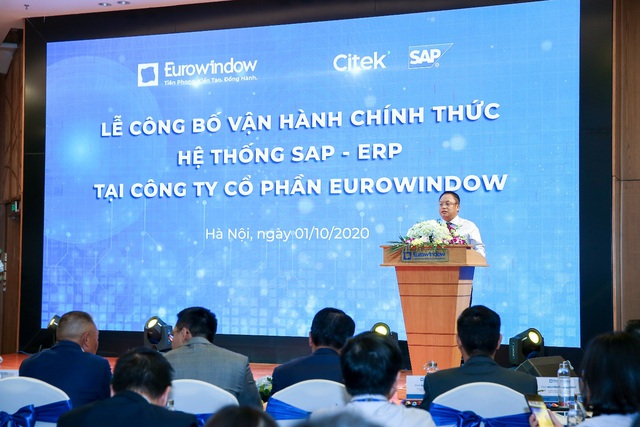 Follow that, Citek has deployed SAP S/4HANA system for Eurowindow with functions: S&OP, projects management, production, BOM and Routing, Quality management, Warehouse and Inventory, Finance management, Supply chain management.
Eurowindow's digital transformation with SAP S/4HANA system is reaching targets: all the departments run the system follow the standard that help decrease risks in management and operation; build the standard – connect – share – responsibilities cultures; improve the managers and employees capacities with digital thinking, digital strategy, and digital operating to make more ways of businesses.
From Citek, "Digital Transformation is the journey for the future so It need a rightful implements. Eurowindow is known as leader of door products provider in Vietnam, but they didn't "Rest on one's laurels" and always search suitable management solutions to reach their targets. And SAP S/4HANA system will make the opportunity for Eurowindow to change, standardize and break out with new and optimism management methods, to bring efficiency in operation"
"We are extremely pleased to have taken Go- live on SAP S/4HANA and contributed to their success in managing an incredibly complex production process from inventory to the shop floor. Our strong expertise in the SAP solutions combined with our deep understanding of business processes in the industry are the key factors that drive this successful migration. The positive result from this implementation is a proud achievement for all parties involved." Mr. Nguyen Cong Tan – CEO of Citek explained
Mr. Chern-Chuen Khor, acting Managing Director of SAP Vietnam, said: "A real-time access to all essential business information is critical for Eurowindow's business operation and we are delighted to see this vision comes to life.  With the go-live of SAP S/4HANA, the management team will be equipped with the necessary business insights to better manage and optimize the company's resources.  This would enable Eurowindow to maximize its production performance and improve the company's competitiveness to better meet the growing needs of partners, suppliers and customers"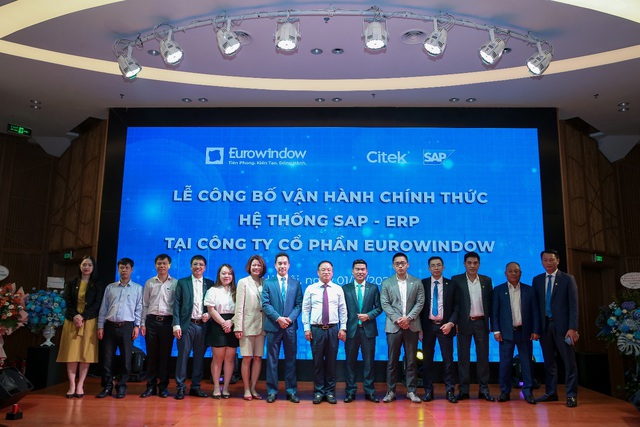 At this project, Citek provides CSVisison methodology of SAP S/4HANA digital transformation solutions. With CSVision, Eurowindow can understand the route and way to simplified the projects management, easy-to-follow and ensure the success of projects on time. This special point of this method is consulting enterprise to reconstruction follow the advance management model to optimize the operation of the SAP system and bring efficiency in management and administration
According to Cafef